Programme

MASTERCLASS | Presenting in Asia

The Study
The Study
This complimentary session provides plenty of hands-on advice to presenting in Asia and key tips on engaging your audience. It will be led by Ray Poynter of The Future Place, who speaks English and Dangjaithawin (Orm) Anantachai of INTAGE who speaks Thai and English. This masterclass is first offered to APAC 2018 speakers and remaining places are then offered to delegates on a first come first served basis. If you would like to attend, please email Magda at events@esomar.org.
"The masterclass was a great session for presenters at ESOMAR to brush up on how to make their presentation impactful. The tips on managing different audiences (native English speakers vs. non-native English speakers) were very useful for people like me who use English as a second language. I am sure that the masterclass with Ray for the presenters at ESOMAR will definitely help them be ready to be on the stage with confidence."
- Noriko Nakano, Nihon L'Oreal, Japan (participant of 2017 masterclass and speaker at APAC 2017)
Masterclass
Let's CLICK! (Client Learning & Inspiring Client with Knowledge)

The Study
The Study
A meet-up for research buyers (only) to network and share best practice in an informal private setting.
Clients can indicate they will attend this complimentary discussion session on the form when they are registering for the conference.
Opening

Main stage
Main stage
Welcome

Main stage
Main stage
ESOMAR Representative for Thailand
Introduction to the programme

Main stage
Main stage
Programme Committee Chair
CEO MarketBuzzz, Buzzebees, Thailand
KEYNOTE | Ariya Banomyong

Main stage
Main stage
Managing Director, LINE Thailand, Thailand
Keynote
YES (Young ESOMAR Society) Pitch Competition

Main stage
Main stage
Leveraging the Peer Group Support System
Lee Lee & Amalina Rashid, Kantar Millward Brown, Malaysia
Augmented Reality: Bringing Real and Virtual Together
Chandrima Roy, Ipsos Research, India
The Surprising Discovery From Pretending to be a Robot
Art Manosilapakorn, Kantar TNS Thailand, Thailand
Research Executive, Ipsos, India
Associate, Kantar Millward Brown, Malaysia
Senior Associate, Kantar Millward Brown, Malaysia
Fast track
Brands Driving Brand Growth
Introduction

Main stage
Main stage
Session chair
Senior Marketing Leader - Research & Insight, ANZ Bank, Australia
CLIENT VIEW | Application of NUDGE to Improve Re-Launch Success

Main stage
Main stage
In a world where the majority of brand re-launches are not successful, we look at a novel application of NUDGE, a Behavioral Sciences approach that can dramatically improve chances of relaunch success. We implemented small ideas in-market to help consumers migrate to the new brand. Initial business results (Dec 2017) have been very positive.
Senior CMI Manager, Unilever, Singapore
Presentation: Client view
CLIENT VIEW | Insights to Rebuild a B2B Business

Main stage
Main stage
How surveys helped us to understand emotion, embolden the front line and drive growth in B2B
Head Of Research & Client Insight, Standard Chartered Bank, Singapore
Senior Manager Client Insights, Standard Chartered Bank, Singapore
Presentation: Client view
CLIENT VIEW | In Pursuit of Happiness

Main stage
Main stage
'Single Customer View' driving Business Excellence
The socially-responsible Fabindia is significantly investing in creating a unique 'Data Management Platform' & 'Customer Information & Insights Management System (CIIMS) that will result in a never-before 'Single Customer View'. Our belief is that a data-led, richer knowledge of customers & consumption patterns across diverse categories will be able to drive insight-led cross-functional decision making in 'business critical' areas - decisions that will directly impact Revenue & Margin upsides. Having successfully celebrated India's artisanal & craft traditions for over 60 years, Fabindia knows what got it here may not take it much further. By investing in its institutional capacity on Customer Centricity, it is confident about growing 3x over 5 years in one of the world's most exciting & fastest growing economies.
Head - Brand & Marketing, Fabindia, India
Senior Manager - Brand & Marketing, Fabindia, India
Presentation: Client view
MASTERCLASS | Finding the Story in the Data

Expo stage
Expo stage
In this session Ray will highlight techniques that help identify and unlock the story hidden inside data. To help bring the session to life, Ray will take the last few ESOMAR Global Market Research Reports and show how new insight and key stories can be identified, with a focus on APAC stories.
Managing Director, The Future Place, United Kingdom (GB)
Masterclass
Introduction

Main stage
Main stage
Session chair
Chief Client Officer - Asia, Kantar, Singapore
The future is VOICE

Main stage
Main stage
How is voice technology changing the world for consumers and brands?
Voice technology is changing the world. It redefines how we communicate and creates new meaning in human and machine relationships. Using multiple techniques, we explore why voice matters and how brands can ignite growth from voice technology.
Managing Director, Kantar Insights, Thailand
Director of Planning, JWT, Thailand
Presentation: Thought leadership
Digital Immersion

Main stage
Main stage
What's next in augmented reality and virtual reality?
Augmented Reality (AR) alters a person's perception by overlaying virtual images over the real-time environment while virtual reality (VR) replaces the real-time environment with a simulated environment. Increasingly, retailers and marketers are making use of AR and VR to market and improve customer experience. However, AR and VR are not only ways to market products and advertise. Embracing the technology, researchers are able to radically transform how the industry conducts research today, through gamification via AR and remarkably realistic simulation through VR environments. This presentation aims to provide some thoughts on how researchers are able to use new technology for gathering data and better understanding of consumer behaviour.
Global Client Solutions Program Manager, Nielsen Consumer Insights, Malaysia
Executive Director - Consumer Insights, The Nielsen Company, Thailand
Presentation: Case study
Breaking the Bubble Around Us

Main stage
Main stage
Using an AI platform to understand the narratives around market research
2017 has been a year of huge debate as to how AI will affect us all. 2018 will be a year when we see more practical applications. But what if we could use AI to assess what the world really thinks about MR in terms of its image, value and reputation? The problem with asking clients or colleagues is that we all live inside biased media bubbles where we read what we want to read, hear what we want to hear. What if AI can tell us the truth about our own industry in a bubble free assessment…
Chief Strategy Officer, Ai.agency, Thailand
SPONSORED | Opiria

Expo stage
Expo stage
The online survey platform for real-time market research & customer experience feedback
Opiria is an online survey platform for real-time market research & customer experience feedback. It allows to understand what customers think, experience, see and feel and to optimize products and services based on those insights. Opiria offers two different survey types: mobile surveys and mobile diaries. Mobile surveys allows to distribute surveys to smartphones all around the world and to receive answers 24/7 instantaneously. Mobile diaries allow consumers to document their experiences in the moment of truth in diary form. The web-based Opiria studio receives all answers and experiences in real-time and aggregates and visualizes the results. The presentation also provides an outlook how Opiria will develop into a "data marketplace" that allows companies to purchase personal data such as web-browsing and online purchases directly from consumers.
Founder & Ceo, Opiria, Germany
Sponsored presentation
Introduction

Main stage
Main stage
Session chair
CEO MarketBuzzz, Buzzebees, Thailand
Change the Relationship Between Suppliers and Clients

Main stage
Main stage
The initiative in the Japanese marketing research industry
As in everywhere in the world, the relationship between Japan MR suppliers and clients has always been the same. Clients put issues on the table to call for solutions, suppliers develop and provide solutions, and clients assess to see if they are acceptable or not. Neither end is satisfied with it. Suppliers complain that clients are not open to new ideas, while clients do so by saying that suppliers do not come up with ideas fitting to their particular problems. Clients are claiming the supplier quality is getting worse, while suppliers are responding that clients want cheaper solutions.
Acknowledging the dissatisfaction, a group of Japanese clients and MR firms voluntarily got together and formed a group to discuss the problems and issues common across the industry.
The presentation will inspire the audience to start changing their mind-set on both the roles shared by and the relationship between suppliers and clients in the MR industry, illustrating what was done by the initiative in the Japanese MR society, driven by a group of industry leaders from both suppliers and clients getting together to make proposals for primary issues and problems in the industry.
Expert Leader - Corporate Market Intelligence Division, Nissan Motor Co., Japan
Presentation: Call-to-action
Panel discussion

Main stage
Main stage
Moderator
CEO MarketBuzzz, Buzzebees, Thailand
Panelist
Managing Director, Kantar, Korea, Republic of
Panelist
Chief Executive, Roy Morgan, Australia
Panelist
Expert Leader - Corporate Market Intelligence Division, Nissan Motor Co., Japan
Panelist
Senior CMI Manager, Unilever, Singapore
Panelist
Cmi Head, Godrej Consumer Products, India
KEYNOTE | Merge - The Closing Gap Between Humans and Technology

Main stage
Main stage
The next three decades will be the most technologically disruptive era in human history. Advances in artificial intelligence, combined with radical breakthroughs in hardware, will usher in an era in which devices fade away, virtual environments emerge, and super-smart AI assistants organise our lives and run our businesses. In this new world our relationship with technology will change forever. We will, both virtually and biologically, Merge together. The session will explore this Merge and its far-reaching implications for brands and marketing.
Co-author of Merge / Regional Head of Strategy and Planning, PHD Media Worldwide, Singapore
Keynote
Networking night

Swimming pool-side
Swimming pool-side
Sponsored by Lucid
ESOMAR and sponsor Lucid invites all attendees for an exclusive night of networking at the poolside of the Shangri-La overlooking the Chao Phraya river.
Together we offer complimentary drinks and canapés until 20:00 after which a cash bar will remain open until 22:00 for all ESOMAR APAC attendees. We look forward to welcoming you at the Poolside but please wear your badge.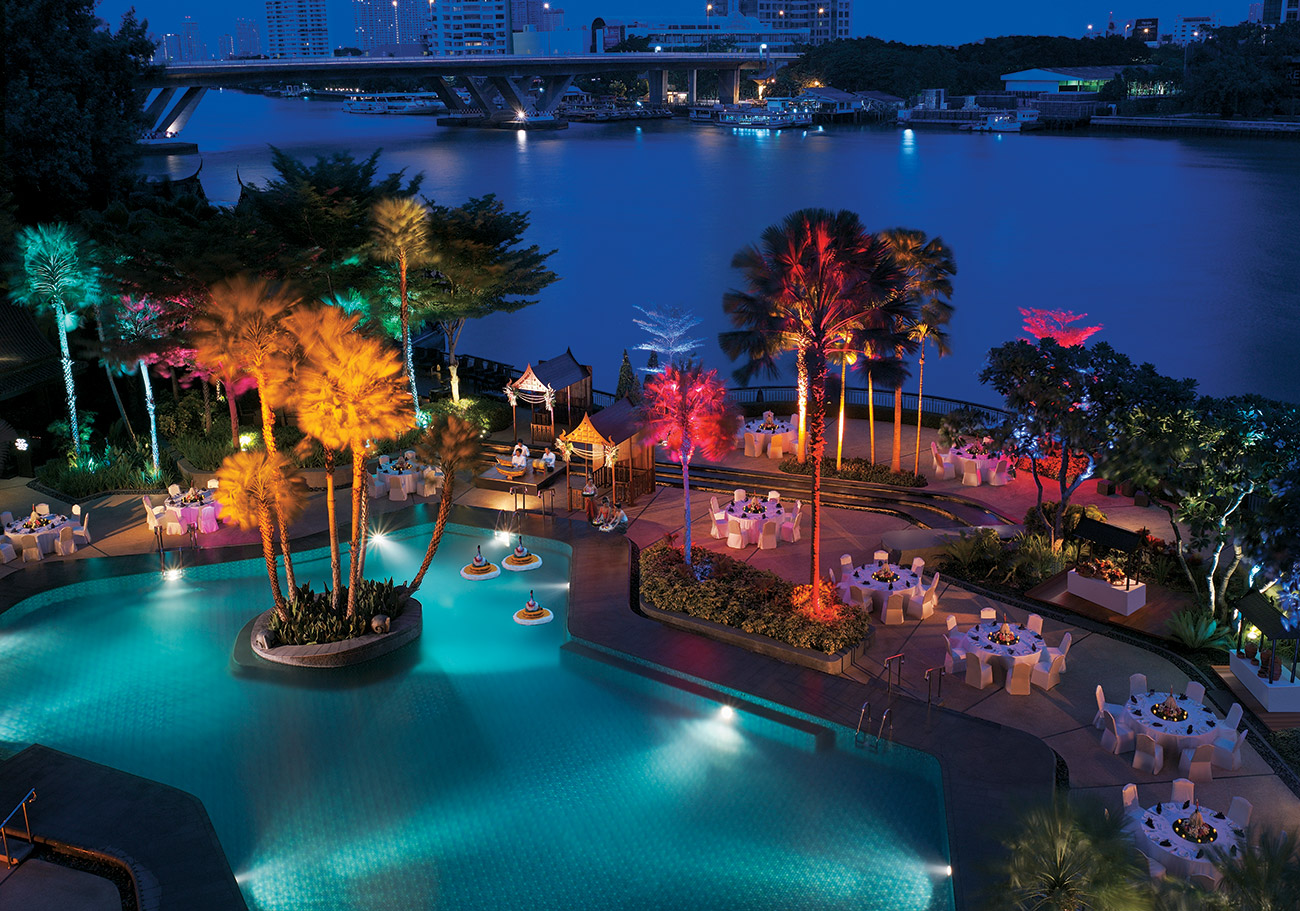 ยินดีต้อนรับสู่วันที่สอง [WELCOME TO DAY TWO]
Introduction

Main stage
Main stage
Session chair
COO and Managing Director, INTAGE, Thailand
King Bhumibol: The Father of Thai Social and Marketing Research Profession

Main stage
Main stage
Managing Director, InfoSearch, Thailand
President, InfoSearch, Thailand
KEYNOTE | From Buddha Bar to Buddha's Brain

Main stage
Main stage
How mindfulness revolutionises our life and the way we work
Living in this increasingly VUCA world where digital disruption occurs every day is not very brain-friendly. Fortunately, there is a tool to help us find peace of mind and, as a by-product, perform better at work. A brief mindfulness practice will also be included in the presentation.
Author, Meditation Instructor, Coach, Thailand
Keynote
INTERACTIVE | If Only I Had the Question

Expo stage
Expo stage
An interaction to discover what you really wish you had asked
Every researcher regrets that one question they wish they had asked and did not! Who knows why. Bad timing, just forgot, realised afterwards, inexperience, things have changed. Loads of reasons. Time to clear that regret, share and learn.
Chief Strategy Officer, Ai.agency, Thailand
Interactive session
Introduction

Main stage
Main stage
Session chair
Chairman, Kantar TNS, Malaysia
Tell Me What You Like & I'll Tell You Who You Are

Main stage
Main stage
Harnessing the science of influencer marketing to make sense of society
We have long known that to succeed in social media as an influencer of tastes and opinions, it is important to not only have a strong and differentiated personal brand; influencers today must also consistently share content that connect deeply with their audiences, and successfully doing this presupposes a good grasp of the values and motivators of their fan base. Running with this idea, we wanted to test if the inverse could also be true - could understanding the success of influencers clue us in on the way a sizable segment of society thinks, what they value, what they are interested in, and what excites them enough to merit social media activity?
Associate Director and Head of Corporate Development, The EON Group, Philippines
Presentation: Thought leadership
Will They Like It?

Main stage
Main stage
Social consumer revolution
Jon Puleston takes a look at how consumer decision making is becoming more socially influenced and the impact this is having on consumer behaviour and the potentially dramatic implications for brands.
Vice President Innovation, Lightspeed, United Kingdom (GB)
Presentation: Thought leadership
Research to the Rescue

Main stage
Main stage
How market research can direct ivory demand reduction strategies, saving elephants from imminent extinction
Demand for ivory in China has risen dramatically in recent years due to rising affluence and travel. Ivory is traditionally being regarded as precious and prestigious. Our challenge is to make it socially undesirable and change consumer perceptions.
Senior Programme Manager, TRAFFIC / WWF, China
Director Asia Pacific, GlobeScan, Hong Kong
Presentation: Call-to-action
MASTERCLASS | Semiotics in Asia

Expo stage
Expo stage
Join this masterclass to discover why the world's most successful brands are using semiotics to do much more than inspire and guide communication strategies. Semiotics is increasingly used to supercharge traditional methodologies, inspire sensory brand worlds and drive product innovation. This Masterclass will reveal how the essential tenets of semiotics are being re-applied to challenging and unusual business questions, and how the methodology is impacting the future of branding in Asia Pacific.
Please note that ESOMAR also offers a 1 day and a 2 days Semiotics training Bootcamp in Bangkok (same week, same venue) on 16 & 17 May. This is not included in the APAC 2018 registration, but visit here if you also wish to attend.
Director - Brand Strategy, Space Doctors, Singapore
Project Manager, Space Doctors, Singapore
Masterclass
Introduction

Main stage
Main stage
Session chair
Executive Director of Planning & Market Insights, Sands China, China
Pricing of Enormous Number of Features

Main stage
Main stage
Not a problem anymore!
The automotive market in India has become crowded over the years. Global giants have raised the bar. Indian brands are under pressure to offer better technology and feature-rich vehicles to match global standards. The business challenge was to identify which features would be profitable to launch in India and work out the optimal configurations at prices which would aid in single market share profitably. We devised a new pricing research technique that would replicate the real-life evaluation process of 100+ features, while keeping the uninterested and impatient Indian consumers engaged. The result was a 3D virtual showroom that has not only helped us to recommend the optimal price product portfolio, but has the versatility of application across other industry sectors too.
Associate Vice President, Kantar IMRB, India
Presentation: Methodological innovation
Whoo needs research? Whoozini.com does!

Main stage
Main stage
Developing an MR mobile app for a social network mobile app
'Whoozini.com', a start-up from USA, wanted to launch a social media mobile app. Being techie, they already had a product in mind and wanted to directly go into MPV Phase. The challenge was to show the value and contribution of an exploratory phase before testing. They also wanted to do research mostly digitally and in the most cost-effective way. For this, we created an MR Mobile App for 360 degree NPD & Innovation work. The result? Whoozini.com won the Innovation Award in one of the biggest start-up events and has subsequently launched the app in the USA & SEA regions!
CEO & Founder, Whoozini.com, United States
Founder & Managing Director, Tangrine Insights, Singapore
Presentation: Methodological innovation
Identifying and Sizing Growth Opportunities for Brands Through Mapping the Consumer Journey

Main stage
Main stage
Linking up what consumers see, think, experience and do
The Consumer Decision Journey is one of the most researched areas in the marketing community. However, it's still a challenge for many companies to transform insights obtained through this model into actions that deliver revenues. To truly leverage the power of consumer data and turn it into impactful marketing results, we have developed a framework to bridge data on what consumers are seeing, thinking, experiencing and doing to offer a total view of the consumer journey. Based on the framework, we have also built an analytical engine that takes in current and historical data of hundreds of brands in Asia. Through this engine, we can track and monitor how well brands are converting consumers through the value chain and rapidly identify and size (in dollar terms) the opportunities for revenue growth and what brands must do to unlock them.
Head - Expert Solutions Asia, Kantar Worldpanel, Singapore
Director - Business Transformation, Kantar, Singapore
Presentation: Thought leadership
Drive Industry Excellence
Introduction

Main stage
Main stage
Session chair
Expert Leader - Corporate Market Intelligence Division, Nissan Motor Co., Japan
Lack of Engagement? Artificial Intelligence to the Rescue!

Main stage
Main stage
Two approaches to reduce nonresponse in surveys
The plummeting of response rates figures is a very well-known issue in the Market Research industry. While the possible ways to deal with this issue are plentiful, an unavoidable candidate is engagement, in particular among Millennials. We test the use of two innovative technologies in the field of Artificial Intelligence in order to improve survey engagement: Google Vision API for classifying images and a speech recognition tool to convert voice input to text. The results of both studies are positive and draw a promising landscape for further research.
International Director, Netquest, Spain
Presentation: Methodological innovation
Data Integration and the Future of Market Research

Main stage
Main stage
The changing face of market research: Is automation really the future and how do we get there?
While the use of automation for text and data analysis, charting, or sampling continues to grow, not everyone is convinced. We will explore how market research needs to create situations where automation leads to a change in the way research is done.
Vice President - Asia Pacific, Research Now, Australia
Presentation: Industry challenge
Competing and Winning in a world of Big Data

Main stage
Main stage
How market research can thrive
In a world where there's increasing fragmentation and companies are drowning in data, having practical business solutions that connect and make sense of big data as well as humanise data, is essential. We believe collaboration is imperative and have developed a thriving partner ecosystem so that our data works harder for our clients, across more business applications. Through specialist algorithms that anonymise and aggregate data, we are able to connect our market insights and segments to large media owners and platforms such as Google, Facebook, Sensis (Digital/Yellow page business directory), Australia Post and Australia's market leading telco Telstra.
Chief Executive, Roy Morgan, Australia
Presentation: Industry challenge
KEYNOTE | Know When to Art, Know When to Science

Main stage
Main stage
Marketing has come a long way. And while there's no doubt all the science and technology has made marketing smarter, has it made it better? I'm not so sure. We need to remember that marketing will always be more art than science; marketing is a craft, not just a job. And great marketing takes an intuitive leap into the unknown, a leap that science and research can't take for you. You need to know when to use science and when to use art, respect the role each can play, build complimentary skill sets in the marketing team. Blending art and science the right way is the alchemy we need to make marketing great again.
Chief Marketing Officer, IAG, Australia
Keynote
Closing & Awards

Main stage
Main stage
Programme Committee Chair
CEO MarketBuzzz, Buzzebees, Thailand
ESOMAR Member
COO and Managing Director
Dangjaithawin Anantachai has a master's degree in Communication Management from Bond University in Australia and is now a PhD candidate in Human Resource Development. She is currently COO and Managing Director of INTAGE in Thailand. Prior to that she has worked at Robinson Department Store, Siam Commercial Bank, ACNielsen, Market 21 Australian Trade Marketing Consultant and Research Dynamics. Dangjaithawin was the President of Thailand Marketing Research Society (TMRS) from 2013-2014 and is now an advisor to their Board Committee as well as a panel trainer of Marketing Association of Thailand (MAT) and a guest lecturer at leading universities in Thailand.
ESOMAR Member
Programme Committee Chair
CEO MarketBuzzz
Grant currently works for Buzzebees Co. Ltd, leader in mobile loyalty and privilege, where he established their media and research department by bringing some of the latest mobile technology to the market research industry.
Grant has extensive international experience having worked in Australia, the US and in the Asia region.
He has been CEO and Managing Director of companies across Asia Pacific with two of the largest global agencies in Ipsos and TNS.
Grant has worked on a range Fortune 500 companies and a number of leading global brand's on a national, regional and global basis. He advises top executives, company management, corporate boards, management and managers on growth and competitive business strategies.
He has a passion for people and culture and successful brands. His passion for successful brands has also led to his involvement and the development of a number of globally based brand and advertising effectiveness tools and solutions.
Grant is also a regular speaker at business conferences and seminars as well as global management and leadership events, including Global Brand Forum in Singapore.
Chief Client Officer - Asia
As Chief Client Officer for Kantar Asia, Tim has the responsibility on behalf of Kantar and the operating companies to lead our strategic account relationships to accelerated revenue growth and improved client satisfaction for our businesses in Asia. Based in Singapore, he brings the best of Kantar to our key clients and people to pioneer new ways of working, to drive growth and tackle our clients' business growth issues. Tim also represents Asia in leading Kantar's client strategy, development and innovation efforts from an emerging market perspective.
Prior to this, Tim was Head of Client Strategy for Kantar globally, based in New York, where primary responsibilities included taking a leadership role in Kantar's global client strategy development; partnering with Kantar's operating companies to identify priority areas for offer innovation; and developing integrated working models for Kantar's strategic global client partnerships.
Tim has also been Global Business Leader for PepsiCo where he provided strategic leadership and overall management of the business with specific responsibility to set out the strategic vision and plan of action to re invent the partnership and research programs across 68 countries to drive PepsiCo business forward.
Having started his career at Millward Brown offices in Europe, North America and Asia, Tim brings a unique perspective to the research consultancy he provides. In each location, he consistently built major new accounts, developed innovative research solutions and successfully led account change programs for Millward Brown, specializing in brand, media and communication expertise.
His achievements also include developing and launching Millward Brown's Optimizing Communications suite of solutions to help marketers maximize their marketing communication effectiveness throughout the advertising development process. He won the 2007 WPPed Cream 'Creme de la Crème' Award for Information, Insight and Consultancy and has also been an ARF finalist for the Great Mind Award.
In his spare time he can be seen swimming, running or cycling as fast as he can as a regular triathlete!
ESOMAR Member
Executive Director of Planning & Market Insights
As the first Executive Director of Marketing Intelligence & Insights for Sands China, Cristina has helped transform Asia's largest operator of Integrated Destination Resorts into a strategically focused consumer-centric culture by leading the process to provide actionable insights and foresights that continuously provides a competitive advantage across all aspects of the resort.
A research expert with more than 15 years of experience in both academia and corporately, Cristina has actively worked with the leading research, media, and advertising, and brand agencies in areas ranging from new product development & launch, entertainment, retail, food & beverage, and gaming development, strategy and marketing.
Cristina is continuously seeking and evaluating pioneering methodologies that delve well below the surface of claimed and intention data to better able to predict and capitalize on an ever changing marketplace, particularly in our primary Asian markets.
ESOMAR Member
ESOMAR APAC Ambassador
Chairman
ESOMAR Member
Expert Leader - Corporate Market Intelligence Division
With 30+ year experience in marketing research and data analytics with diversified areas in terms of industry, methodology, marketing theme, etc.
Joined Nissan 2003, develops and manages global marketing research scheme, manages global MR function designs the future vision of the function and leads cross functional activities for process restructuring for product development and project management
Before joining Nissan, worked for Intage Inc., managing diversified areas of customer research projects and CRM initiatives in terms of industry, methodology, strategic implications, etc.
Leading a voluntary group of industry leaders in Japan MR society
Offers presentations and lectures at industry seminars and universities
ESOMAR Member
Senior Marketing Leader - Research & Insight
As an advocate of the forethought power of insight, Grace is a strategic insight expert with regional experience in senior roles on both client and agency side. Based in Melbourne, Grace currently works at one of the major Australian banks to lead a transformation journey to turn tracking research programs into agile insight engines. She believes that having the open mindset to integrate market research with new data sources and metrics can actually amplify the impact of insight rather than hinder it. Grace has nearly 20 years' experience working with many of the world's leading brands and advertising agencies in the Asia Pacific region including Unilever, L'Oreal, GSK, American Express, Ogilvy & Mather, JWT and TBWA. Throughout her research career, Grace has worked extensively in a range of roles including qualitative moderator, key account director, marketing science modelling specialist, research product developer and strategic consultant. Outside of work Grace enjoys bush-walking, badminton and music.